Haunted House:
Blue Ghost Blues
review by Mark McCawley
Artist: Haunted House
Album: Blue Ghost Blues
Label: Northern Spy
Release Date: September 13, 2011


Comprised of underground cult avant blues guitarist Loren Connors, his life partner and vocalist/lyricist Suzanne Langille, guitarist Andrew Burnes (of the band San Agustin from Atlanta, Georgia) and Daf player Neel Murgai — Haunted House briefly reunited again in 2010 to record Blue Ghost Blues with New York's Northern Spy label. After performing at Brooklyn's Issue Project Room on April 6, 2011, they reconvened a couple days later in the same old factory building where they laid down the tracks for Blue Ghost Blues — the follow-up to their 1999 Erstwhile release Up In Flames — at Seizure's Palace Recording.

Although Haunted House possesses only a brief history and limited discography, band front man Loren Connors — who has also recorded under the names Guitar Roberts, Loren Mazzacane, Loren Mattei — has an extensive history and discography of underground avant blues composition, improvisation and collaboration on acoustic and electric guitar on over 50 albums dating back to the 1980s, including commercial record labels such as Table of the Elements and Father Yod as well as on his own Black Label, St. Joan and Daggett self publishing imprints which include spare solo and duo blues, ensemble experimental jazz, noise, drones, and folk music. A prolific collaborator, Connors has worked with artists including Alan Licht, Jim O'Rourke, bassist Darin Gray, Thurston Moore, John Fahey, Keiji Haino, Jandek, Suzanne Langille, avant garde poet Steve Dalachinsky, Chan Marshall, Margarida Garcia, Kath Bloom and blues musician Robert Crotty.
Listening to Haunted House, at once one can distinguish Connors' own unique musical vocabulary pushing both musical and lyrical boundaries of a genre born of the Deep South, expanding beyond traditional blues motifs with his own electric minimalist style — vaguely similar to what Morphine's Mark Sandman or even Chris Whitley did with the blues — stretching notes with a violently delicate vibrato in a combination of Delta bottleneck sound and the ancestral blues voice. Long time partner an collaborator, Suzanne Langille, her soulful and blues-filled voice — at times a cross between the sultry Billie Holiday and Nina Simone — has long been an perfect, essential foil for Connors' improvisations — having made appearances on many other Connors' albums, notably on the two Blues Master LPs, Rooms, The Crucible, and In Pittsburgh.
The development of the Connors/Langille collaboration/improvisation and how it reflects their later work in Haunted House's Blue Ghost Blues, one need listen to the following two versions: an amalgam of verses from "Blue Ghost Blues" (1927, 1938) and "Lonesome Ghost Blues" (1927) by Lonnie Johnson, both songs pre-dating "Haunted House" by decades. Note the increasing ethereal sensual quality of Suzanne Langille's voice wrapping around Johnson's lyric from one version to the next, as well as Connor's guitar work.
"I'm kind of surprised about myself – my music is still evolving, changing, still moving forward. I'm concentrating more on full chords and washes of sound now, rather than single notes. It seems to have lifted off into somewhere mysterious, some place I've never been to before." ~Loren Connors
Loren Mazzacane Connors — Blue Ghost Blues (With Suzanne Langille) (from 'In Pittsburgh', St. Joan 1989; Dexter's Cigar 1996)
Haunted House — Blue Ghost Blues (from 'Blue Ghost Blues', CD, Northern Spy, US, Recorded at Seizures Palace, Brooklyn, New York, 2011)
Perhaps the album's strongest and most disquieting piece, "Millie's Not Afraid" combines Neel Murgai's clattering, pounding drums with Burn's hypnotic, chugging guitar set to Connors' soaring guitar work, his otherworldly reverb drenched waves of sound from which Langille's voice punches in and out like an eerie ghostly wail.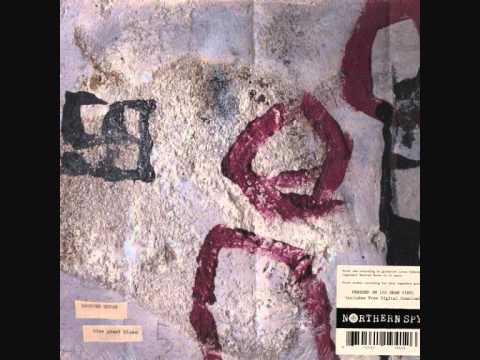 No where else on this powerfully abstract avant blues album is this group's collaborative improvisation more distinct than on its cover of Jefferson Airplane's "White Rabbit" from their 1967 release, Surrealistic Pillow. Indeed, their cover is more psychedelic than the original. As Montreal poet Stephen Morrissey so aptly pointed out to the reviewer, this may even be "a post-apocalyptic version."
Haunted House — White Rabbit [Bonus Track] (from 'Blue Ghost Blues', CD, Northern Spy, US, Spy Music Festival, Saturday, October 1st, Brooklyn, New York, 2011)
Whether you are new to the music of Haunted House, Blue Ghost Blues is an excellent starting point to further discover the music of Loren Connors, his many musical collaborators, and other albums with the Northern Spy label. UG

Tracklist:
1. Millie's Not Afraid 9:56
2. Blue Ghost Blues 12:27
3. Grip My Hand 3:42
4. Thomas Paine 9:11
5. Hard Roads 3:07
6. White Rabbit [Bonus track] 7:49